MonReNal, Service-Engineering Company LLC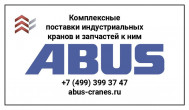 Address:

1/1, Ilmensky proezd, Moscow 127238, Russia

Phone:

+7 (499) 399-31-28

Website :

Email:
We present to your attention a new porject of the Russian company SIC MontReNal. The aim of the porject is not only to provide the prospective customer with information about the impeccable quality of lifting equipment of the German manufacturer ABUS Crane Systems GmbH, but also to give him an expert assessment, professional advice, giving a balanced approach to choosing a supplier of lifting equipment. With a significant presence in the market of representatives of other European manufacturers of lifting equipment, the strategic task for the coming years of this project is the active promotion of ABUS brand in the Russian Federation. With us you will receive:

- Reliability;

- We offer a 2-year warranty on new equipment, service throughout Russia;

- Opportunity;

- The ABUS equipment characterized by reliability, utility, and especially low operating costs, is designed and manufactured using the latest technology;

- Competence;

- The ability to maintain a client program, which are integral parts of it: consultation on the Internet and the phone - the optimal projects that meet the requirements of customers, installations, warranty and post-warranty service.