16:16, 11 June 2021
Steel Construction: Trends and Prospects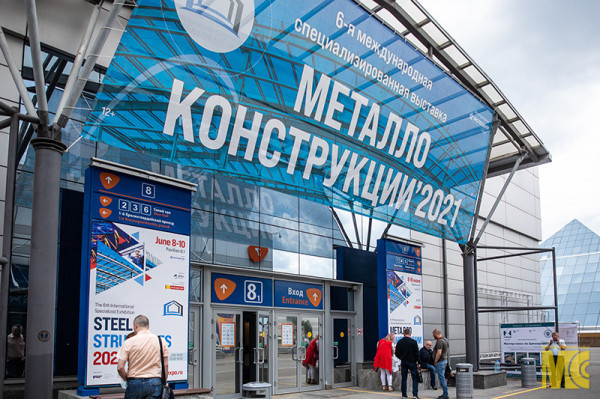 SteelStructures'2021 was successfully held on June 8-10 at Expocentre Fairgrounds, Moscow, Russia. The event being mainly focused on the construction complex as the main user of steel in the domestic market brought together steel products manufacturers, suppliers, and end-users.
115 steel products manufacturers, among them AGRUPP Steel Structures, Agrisovgaz, MAMI Steel Structures Plant, Steel Structures Proflist Group, ARS-Prom Group, Vesna, Volgogradskiy Zavod Burovoy Tekhniki, Vostokmetallurgmontazh-1, DiPOS, Degesta, Intex, Kazan Steel Profiles, KVOiT, Lino, Promnastil, Uralelectromed, MMK, Severstal-Metiz, Abinsk Electric Steel Works, BERVEL, Ashinskiy Metallurgical Works, Rechitskij Metaznyj Zavod and many more exhibited in the event.
Booming steel prices made many market players reconsider current business agreements in search of new suppliers. Experts state the current market situation is better than expected.
One of the main topics of more than 20 events held in parallel to the exhibition was finding new market trends. Thus, delegates of Modern Equipment and Solutions to Steel Structures Corrosion Protection conference, arrived at the conclusion, that steel structures galvanizing was the main market trend for steel life needed to be prolonged due to its high price. V. Polkin, General Manager, Zinc Development Center, stated that corrosion protection became a new market trend to engineers engaged in development of urban infrastructures and road building.
Steel Construction Development Association (SCDA) held a few roundtables focused on technical standards base, new developments, and synergy of use of galvanized rolled products and steel structures, not to mention admitting new members on the annual meeting. Melnikov's TSNIIPSK along with SCDA held some conferences and roundtables on the most pressing problems of the metal construction industry as well.
High Quality Fasteners Ensuring Durability of Equipment and Steel Structures conference brought together professionals from all over Russia. On discussing current investment programs, new product lines, technical regulations, prospects of competitiveness improving, the market players arrived at the conclusion that the domestic fastener market had a good growth capacity. V. Kamelin, General Manager, Prommetiz Association stated that over the first five months of 2021 all types of hardware products showed positive dynamics of manufacture and sales.
Steel Structures: Main Trends in 2021 conference was one of the key events held in parallel to the exhibition. The conference brought together steel structures manufacturers, industry professionals, steel structures designers, and end-users. One of the headlines of the conference was positive dynamics of use of steel in the construction industry. The growing demand for steel is caused by implementations of projects on building food industry objects, road and railway building, and logistics objects construction. I. Vedyakov, General Manager, Kucherenko's TSNIIPSK stated that growth in steel structures use was mainly caused by implementation of large-scale national infrastructure projects.
Modern Steel Bridge Building: Tasks, Advantages, Prospects roundtable brought together designers, manufactures and builders of steel bridge structures. The delegates agreed that contemporary bridge building required new solutions and large-scale national projects.
Russian Union of Metal and Steel Suppliers organized a roundtable for marketing professionals. Delegates discussed the current market structure and new and current steel market trends and trade policies of steel companies.
In general, the events held in parallel to the exhibition covered all the most pressing problems of the metal construction industry. The delegates arrived at a general conclusion that steel structures market would keep the growth rate in the second half of 2021.
More that 8k industry professionals visited SteelStructrures'2021, Metallurgy.Russia'2021, Litmash.Russia'2021 and Tube.Russia'2021 exhibitions to get to know new market trends and find new solutions to business development.